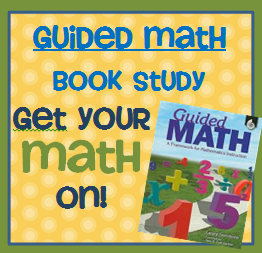 There was so much in this chapter but here are several thoughts I have after reading.
It is important to build a sense of community. This was lacking in my class last year. This particular group of students had a difficult time working together and spent a lot of time trying to get each other in trouble. I had to be very careful who I put in groups together or who I paired up for station work. I'm not exactly sure what went wrong, but building a learning community will be priority one next year!

Communication is key. Students need time to talk about their work. I ask a lot of questions requiring the kids to really explain how they attempted a problem. They got used to me saying "Tell me about your thinking." I want to expand our math journals to record more of our thinking.

The classroom needs work space for large group discussions, small group instruction and space for independent and group work. I use my Smart board a lot- love it!- so my large group area is going to be near the board. I'll put my easel and tools I use for large group lessons in this area. I have a large horseshoe table that I use for small group work. I try to put my student desks together in groups of 4 or 6 so that students can work together easily.

Everything needs to be organized. This is definitely a challenge for me! I do have my math manipulatives pretty well organized. Chapter 2 of Diller's Math Work Stations has fabulous organizational suggestions if you need to get your stuff together. My trouble spots are my teaching areas. My large group area tends to get kind of cluttered so I need some organizers for the things I use there, both for math and language arts. My teaching table is the worst spot. I have to confess that several times last year I had to meet with guided reading groups on the floor because the table was such a mess! If I am also going to meet with guided math groups, it has to be clear and all of my supplies have to be stored nearby. Thank goodness for blogs and Pinterest-I have found some wonderful ideas for storage.

Every one who enters the room should know that math is valued in the classroom. I have a math wall with vocabulary, a simple calendar (I use my Smart board for our daily calendar activities), and my district's problem solving model. I want to add a space for a problem of the day or math stretch. Anchor charts are hung around the wall. I need to do more of these next year! I'm also adding a number line like what

Kim Sutton

uses. (Click on Kim's name to watch a video of her explaining her number line.) Manipulatives are readily available. I have a basket of math books and I also use math books to extend some of the work stations.
I am really enjoying this book study! I can't wait to hear what others have to say about this chapter.
Carol